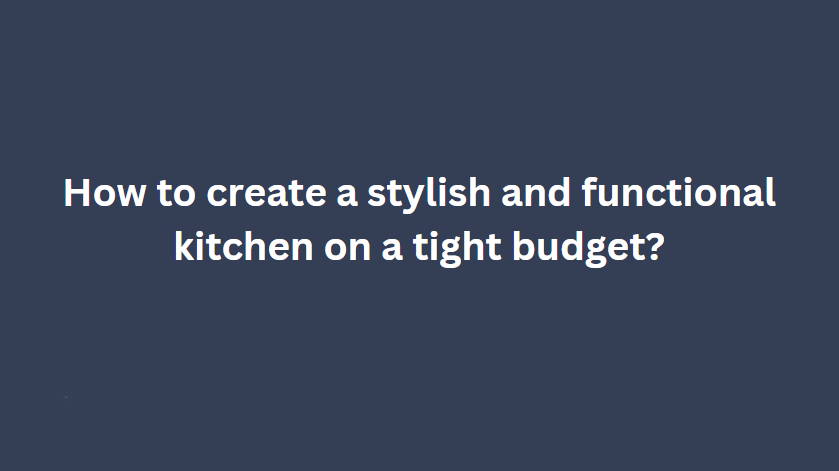 Introduction
So you want to revamp your kitchen but don't have a lot of cash to splash. Don't worry, you've come to the right place.Creating a stylish yet functional kitchen on a tight budget is absolutely possible.All it takes is some clever design hacks, smart shopping, and a willingness to get your hands dirty.In this article, you'll discover some insider tips to overhaul your kitchen without breaking the bank.
You'll learn how to spot bargains, repurpose materials, and choose multifunctional fixtures and appliances. With the right approach, you can craft a kitchen you'll love for less.Stop dreaming of those expensive kitchen remodels you see on TV and start making over your space on a realistic budget. Your stylish and savvy kitchen awaits!
Set a Realistic Budget
Setting a realistic budget is key to creating a stylish yet functional kitchen on a tight budget. Determine how much you can actually afford to spend on your kitchen renovation before you start designing.
\n\n###Make a list of must-haves
Focus on the essential elements you need in your kitchen like a stove, refrigerator, and sink. These items typically take up a large portion of any kitchen remodel budget. Look for good deals on models that suit your needs.
\n\n###Save on cabinetry
Cabinets are another major cost in a kitchen remodel. Consider refacing or refinishing your existing cabinets to save money. If replacing cabinets, choose a simple shaker style in a neutral color which is budget-friendly and timeless. Look for sales and discounts on stock cabinets.
\n\n###Watch out for little costs
Don't blow your budget on big-ticket items then skimp on things like lighting, hardware, countertops or flooring. These finishing touches have a huge impact on the overall style and function of your kitchen. Shop sales and discount retailers for the best deals on everything from trendy pendant lights to sleek drawer pulls to durable laminate countertops.
\n\n###Do some yourself
If you're reasonably handy, consider doing some of the work yourself to cut costs like painting walls and ceilings, installing flooring or backsplashes, or refacing cabinets. You can save thousands of dollars in labor fees, even after accounting for the cost of materials.
With some smart budgeting tactics, you can have a kitchen remodel you love without breaking the bank. Focus on function, keep an eye out for deals, and get handy when you're able. Your wallet and your new kitchen will thank you!
Focus on Functionality First
A stylish kitchen starts with a functional layout and workflow. Focus on how you actually use the space before worrying about accents or decor.
First, determine how many people typically cook at once. If it's usually just you, keep walkways and work areas open. If the whole family cooks together, make sure there's enough counter space and clearance for multiple cooks.
Next, think about the flow or sequence of steps. Is there enough room to prep, cook, serve, and clean up efficiently? You'll want work areas, appliances, the sink, and trash/recycling in a logical order. Draw a basic sketch to help visualize the ideal setup.
Once you have the layout figured out, look for ways to improve storage and surfaces. Things like pull-out cabinets, lazy Susans, and retractable spice racks are space-savers. Stainless steel or stone countertops are low-maintenance and stylish. An island or kitchen cart also adds more surface area.
With the functionality addressed, you can start choosing accents to match your personal style. Things like new hardware, flooring, lighting fixtures or a tile backsplash make a big impact without a big budget. Choose timeless, high-quality pieces that you truly love—they'll make your kitchen feel special for years to come.
Remember, a kitchen remodel doesn't have to be complicated or expensive. Focus on optimizing how the space works for you and then enhance with stylish accents you genuinely enjoy. With some strategic choices, you'll have an inviting kitchen that suits your needs and budget perfectly.
Choose Affordable Yet Stylish Cabinets
Choosing stylish yet affordable cabinets is key to creating a kitchen that looks high-end without the high price tag. Focus on the fronts of the cabinets since that's what people notice most. Consider the following options:
Laminate cabinets: Laminate, like Formica, is an inexpensive material that comes in a variety of wood grain prints and solid colors. It's durable and water resistant, perfect for kitchens. You can find laminate cabinets for a couple hundred dollars for a standard 10×10 kitchen.
Painted cabinets: If you have cabinets in good condition but an outdated style or color, consider painting them. A fresh coat of paint in a modern shade like gray or white can transform the space. You'll need high-quality primer and paint, but it's a DIY-friendly project that can save thousands versus replacing cabinets.
Replacement doors: For another budget-friendly option, purchase new cabinet doors to replace your existing ones. Cabinet doors are what you see most, so new ones can make old cabinets look like new. You can find cabinet doors at home improvement stores for $50-$200 each, depending on the material. Measure your existing doors carefully so the new ones fit properly.
Semi-custom cabinets: If your budget allows for new cabinets, semi-custom ones offer style at a lower cost than full custom. They come pre-made in standard sizes but can be customized with different door styles, finishes, and organizational accessories to suit your needs. Expect to pay $125-$350 per cabinet.
Open shelving: For a rustic, casual look, replace upper cabinets with open shelving. It will make a small space feel more open and airy. Use matching or complementary brackets to securely mount wooden boards or metal rods to the wall. Open shelving is also an easy DIY project that can save thousands versus installing new upper cabinets.
With some smart choices and DIY work, you can create a stylish and functional kitchen without spending a fortune. Focus on the cabinet fronts, choose affordable and low-maintenance materials, and consider open shelving for an on-trend look. Your kitchen will be cooking in style in no time!
Select Space-Saving Appliances
When designing a stylish yet functional kitchen on a budget, choosing space-saving appliances is key. Look for small-scale appliances that still serve your needs.
Built-in microwave
Rather than a countertop model, install a built-in microwave to save space. These microwaves fit snugly into a wall cabinet or kitchen island, freeing up your countertops. You'll regain an average of 2 square feet of counter space, which makes a big difference in a small kitchen.
Compact refrigerator
For a small household, you really don't need a full-size refrigerator. A compact fridge, like a mini fridge or undercounter model, takes up half the space of a standard refrigerator. They typically range from 3 to 6 cubic feet, so you can choose a size that suits your needs. You'll save on energy costs too.
Combination oven
A combination oven, like a convection microwave or speed oven, allows you to cook in multiple ways using just one appliance. It can air fry, bake, broil, microwave, roast, and more. This is perfect if you have limited room for a full stove and oven setup. Look for a model with pre-programmed settings to make cooking efficient and easy.
Dishwasher drawer
Rather than a full-size dishwasher, consider dishwasher drawers that hold half the dishes but only take up half the space. Two drawers can wash the same number of dishes as a regular dishwasher using less energy and water. The drawers also make loading and unloading more ergonomic. For a couple, a single drawer may suit your needs.
By choosing smaller-scale, multi-function appliances, you can create a stylish, user-friendly kitchen without sacrificing functionality. Focus on appliances that serve your actual needs rather than oversized options. Your kitchen and budget will thank you.
Conclusion
So there you have it, some tips and tricks to create a stylish yet functional kitchen without breaking the bank. With some strategic choices, smart shopping, and DIY skills, you can achieve a kitchen makeover on a budget. Don't feel limited by what you can't afford – get creative with what you've got. Focus on the elements that make the biggest impact like lighting, hardware, and paint.
Splurge on a statement piece if you want to. Most importantly, don't forget that a stylish kitchen should suit your needs and personal style. Your kitchen makeover doesn't need to copy what's trendy or featured in home magazines. Make it your own with the resources you have available. With some elbow grease and an open mind, you'll be whipping up meals in your dream kitchen in no time!