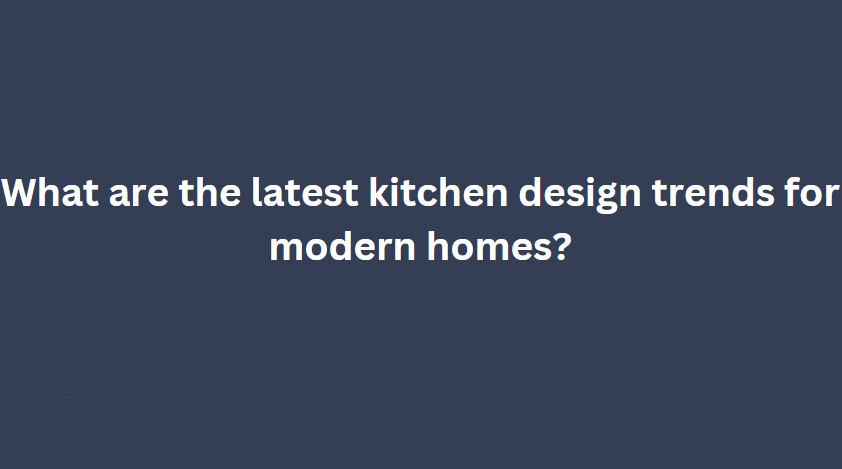 Introduction
Have you been thinking it's time to give your kitchen a face lift? Maybe you're building a new house and want the latest stylish kitchen. Either way, you'll want to know the hottest trends in kitchen design right now. Open layouts, lots of natural light, high-tech appliances, environmentally-friendly and sustainable materials, and touches of bold color are all the rage.
Gone are the days of the cramped, closed-off kitchen – now it's the heart of the home where friends and family want to gather. If you're looking to create a modern kitchen that's inviting and on the cutting edge, here are the top trends you'll want to incorporate. A kitchen renovation is a big project, so make sure you do it right by keeping up with what's new and next. Your space – and your guests – will thank you.
Minimalist and Sleek: The Return to Simplicity
The latest interior design trends are all about simplicity and minimalism. Homeowners want open-concept kitchens with clean lines, neutral colors, and a clutter-free space.
Streamlined and Spacious
The open-floor plan reigns supreme. Walls are coming down to create a seamless flow between the kitchen, living room and dining area. The minimal look relies on built-in cabinetry and shelving to hide small appliances and free up counter space.
Monochromatic and Neutral
Bold colors are out. Neutral palettes, especially shades of white, gray and beige, create a sleek and airy feel. For accents, nature-inspired greens or blues are popular. The color scheme remains cohesive from the cabinetry to the backsplash, countertops and flooring.
Multi-Functional Islands
Kitchen islands do double duty as a dining space, food prep area and storage unit. Look for an island with an eating ledge, cabinets, drawers and an induction cooktop or sink. The island should complement your kitchen's style and provide enough room for stools or chairs on one side.
Smart Storage and Convenience
Cabinets that extend to the ceiling, deep drawers, pull-out shelves and built-in organizers keep everything tidy while still within easy reach. Other useful additions include pot and pan drawers near the stovetop, a built-in knife block, and touch-activated faucets.
Eco-Friendly and High Tech
Sustainable and energy efficient materials are highly sought after. Things like bamboo cabinetry, quartz countertops, LED lighting and induction cooktops are popular choices. Smart home features like wifi-enabled appliances, motion-activated lighting and touchscreen interfaces provide ultra-modern convenience.
With a minimal, open layout and the latest eco-friendly and high-tech options, your kitchen will be stylish, functional and ready for home cooking in the 21st century. Focus on what really matters to you and keep it simple. Your perfect kitchen is within reach!
Smart Technology and Appliances: The Futuristic Kitchen
The modern kitchen is smart, high-tech, and futuristic. If you're remodeling your kitchen, you'll want to incorporate the latest technology and appliances.
One of the biggest trends is smart appliances with Wi-Fi connectivity that you can control remotely. Things like smart refrigerators that tell you when you're low on milk, ovens you can preheat from your phone, and robotic vacuum cleaners are popular choices for tech-savvy cooks.
Voice assistants are also making their way into kitchens. Devices like the Amazon Echo can help you set timers, find recipes, add items to your grocery list and control smart home devices using just your voice.
For lighting, LEDs and smart bulbs are energy efficient options. Smart bulbs can be dimmed and tuned to different colors using a smartphone app or voice commands. Under-cabinet and over-the-range lighting provides bright task lighting where you need it.
When choosing major appliances, look for ones with touchscreen displays, built-in cameras, and smart diagnostics. Refrigerators can now have touchscreens to stream music and display photos, while ovens may have built-in cameras so you can monitor your food remotely. Some appliances can even diagnose problems before they arise and suggest maintenance to keep them running well.
If a futuristic kitchen is your dream, there are more options than ever to make your space ultra-high-tech, efficient and convenient. With smart appliances, voice assistants, optimal lighting and the latest gadgets, your kitchen will be equipped for whatever the future may hold!
Multifunctional Island Counter Tops: The Social Hub
The kitchen island has become the social hub of modern homes. No longer just a place to prepare meals, the island counter top serves many purposes.
A Place to Gather
An island provides extra counter space for entertaining and hosting casual get-togethers. Guests tend to congregate in the kitchen, so having an open concept space with an island makes it easy for people to mingle while the host puts the finishing touches on hors d'oeuvres or refills drinks. An island gives people a place to sit or lean, facilitating conversation and community.
Seating Space
Many islands now feature built-in seating like stools, providing a casual dining area. This is ideal for a quick breakfast or coffee, doing homework, or chatting with loved ones while they cook. Look for stools that tuck under the overhang for an uncluttered look when not in use. For smaller kitchens, two to four stools are typically sufficient.
Hidden Storage
An island often provides valuable extra storage space for kitchen tools, linens, and other items. Look for an island with cabinets and drawers to keep everything organized and within easy reach while cooking. Deep drawers are useful for larger tools and appliances. Cabinets on the back side of an island facing the wall can store more rarely used items.
A Multi-Functional Workstation
A kitchen island serves many purposes, from food preparation, to dining, to completing paperwork or bills. The extra counter space provides room for a chopping board, kitchen tools, and small appliances so multiple people can work comfortably at the same time. The island surface material should be durable and heat resistant. Popular options include granite, marble, quartz and butcher block.
A thoughtfully designed kitchen island improves the functionality and social aspect of any home. Creating a multifunctional space with seating, storage, and work area will ensure it becomes the natural gathering spot for years to come.
Natural Wood and Metal: The Organic Mix
Natural wood and metal accents are a hot trend in modern kitchen design. The organic mix of natural materials creates a warm, inviting space with rustic charm.
Wood counters and cabinets
Hardwood counters and cabinetry add beautiful warmth and texture to a kitchen. Popular wood options include oak, maple, cherry and walnut. Wood counters require more maintenance but can be worth it for the stunning look. For cabinetry, you can't go wrong with classic wood cabinets, which pair well with most kitchen styles and come in a range of stains to match your decor.
Open shelving
In place of some upper cabinets, consider installing open wood shelving. Open shelving creates an airy, spacious feel and allows you to display decorative items, plants or your favorite dishware. For a rustic modern look, choose rough-sawn wood planks. Be sure to seal the wood properly to protect from water damage and stains.
Metallic accents
The industrial chic of metal pairs perfectly with natural wood. Add touches like brushed nickel or matte black hardware, a stainless steel vent hood, metal bar stools or a copper sink. Metallic accents introduce a sleek, contemporary element that helps balance the rusticity of wood.
Kitchen islands
A kitchen island is ideal for creating a focal point in your kitchen using natural wood and metal. You might choose a wood island base with a marble or metal countertop, or a metal base with a wood countertop. Add wood and metal bar stools for a place to enjoy casual meals. Islands provide extra storage and prep space in an open kitchen.
The rich, organic warmth of natural wood combined with the cool sleekness of metal creates a stylish kitchen esthetic suited for any modern home. By mixing and matching wood and metal elements like counters, cabinets, shelving, hardware and accents, you can create a custom look tailored to your tastes. Keep the overall look balanced for a space that is rustic yet refined.
Conclusion
So there you have it, the latest kitchen design trends that are hot right now and will make your space functional and stylish. Whether you go all in with a sleek minimalist vibe or pick and choose a few trends to incorporate into your existing style, updating your kitchen with the latest looks is an easy way to make your home feel fresh and modern.
Now get out there and make that kitchen renovation happen, your friends will be drooling over your Insta-worthy new space in no time! And don't forget the most important part – using that stylish new kitchen to cook up something delicious. Your kitchen reno and your guests will thank you.Happy designing and bon appetit!