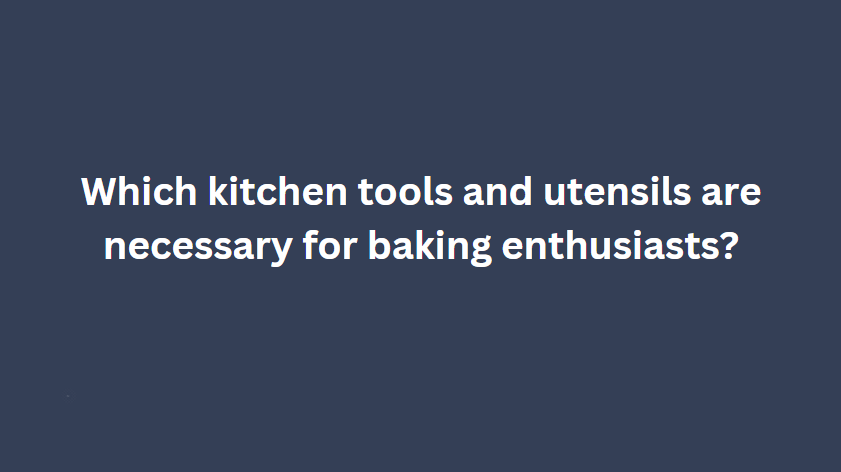 Introduction
So you've caught the baking bug and now you're ready to outfit your kitchen with all the necessary gear. But where do you start? With so many tools and gadgets out there, it can be hard to figure out what's really essential for the home baker. Don't worry, we've got you covered. In this article, we'll walk you through the basics that every baking enthusiast needs to get started.
We're talking the key tools that will have you whipping up everything from chocolate chip cookies to layer cakes and beyond in no time. Whether you're on a budget or ready to go all in, these recommendations will help ensure you have the fundamental equipment to unleash your inner baker. Time to preheat the oven – you're about to become a baking pro in no time!
Essential Baking Tools: Mixing Bowls, Measuring Cups and Spoons
To get baking, you'll need some essential tools. First up, mixing bowls. Get a set of nesting bowls in different sizes from stainless steel or heatproof glass. They're ideal for mixing wet and dry ingredients separately before combining.
Measuring cups and spoons are key. For cups, get a set that includes 1/4, 1/3, 1/2 and 1 cup sizes. For spoons, look for a set with 1/4 teaspoon, 1/2 teaspoon, 1 teaspoon and 1 tablespoon sizes. Precision is important in baking, so invest in quality, well-calibrated tools.
Beyond the basics, here are a few other useful items:
Stand mixer or hand mixer: A stand mixer is ideal for frequent bakers, but a hand mixer will work in a pinch. Either one will make quick work of mixing batters and doughs.
Whisk: Great for whisking eggs, beating cream or stirring together dry ingredients. Get a balloon whisk for maximum volume.
Rubber spatulas: Essential for scraping bowls and folding in ingredients. Heatproof silicone spatulas can withstand high temperatures.
Parchment paper: Line baking sheets with parchment paper for easy release of cookies, pastry and other baked goods. It's reusable and nonstick.
Cooling racks: Allow baked goods to cool completely on wire racks before frosting or packaging. This prevents soggy bottoms by allowing air circulation.
Timer: Don't rely on your oven timer alone. A dedicated kitchen timer will remind you when it's time to check on your creations.
Oven mitts: Protect your hands from hot pans and baking sheets. Silicone mitts can withstand high heat and are very flexible.
With these tools on hand, you'll be whipping up cookies, cakes and bread in no time. Happy baking!
Must-Have Bakeware: Pans, Molds and More
To bake up a storm, you need the right tools. Start with some essential bakeware:
Baking pans: At a minimum, have one 8-inch and one 9-inch round cake pan, a 9×13-inch pan for brownies and bars, and a loaf pan for quick breads. For cookies, a couple of rimmed baking sheets are must-haves.
Muffin tins: Standard 12-cup tins are versatile, but mini tins are great for cupcakes and muffins. Nonstick coatings make releasing goodies a breeze.
Cooling racks: Essential for allowing air flow under baked goods as they cool, especially cakes. Look for racks with feet to allow air circulation.
Mixing bowls: Have a variety of sizes on hand for blending wet and dry ingredients. Stainless steel or ceramic nesting bowls save space.
Measuring tools: Precision is key, so invest in a good set of measuring cups for dry and liquid ingredients as well as a foldable measuring spoon set.
Timers: Whether you prefer manual wind-up timers, digital timers, or an app on your phone, use them to keep you on schedule. Set timers when items go in the oven and be sure to check on them as they bake.
Extras: Other useful items include cake stands, springform pans, pie pans, tart pans, and silicone baking mats for macarons and other delicate items.
With the proper bakeware and tools, you'll be whipping up baked goods like a pro in no time. Happy baking!
Handy Kitchen Utensils: Spatulas, Whisks and Pastry Brushes
As an avid baker, having the right tools on hand is key to success in the kitchen. Beyond the essentials like an oven, mixer and measuring tools, here are some handy utensils you'll want within easy reach.
Spatulas
Spatulas come in a variety of shapes and materials perfect for scraping, folding and stirring. For most baking needs, a set of 3-4 spatulas will do the trick:
A rubber or silicone spatula is great for scraping batter into a pan and getting every last bit out of the bowl.
An offset spatula, also called a frosting spatula, makes spreading icing and decorating cakes a breeze.
A wooden spatula won't scratch your pans and is ideal for gently folding egg whites or batters.
A fish spatula has a long, narrow and flexible head perfect for flipping pancakes, cookies and other treats without breaking them.
Whisks
Whisks are essential for beating eggs, incorporating air into batters and smoothing lumps out of icing. For most home bakers, a set of stainless steel whisks in a variety of sizes will handle any task:
A balloon whisk is ideal for whipping eggs or cream. Its rounded tines add maximum air.
A flat whisk, also called a roux whisk, excels at sauce making and blending flour into fat for roux.
A coil whisk is very versatile and great for blending wet and dry ingredients into a smooth batter.
Pastry Brushes
Pastry brushes are useful for brushing egg wash, melted butter, syrup or jam onto pastries before baking. Natural bristle brushes tend to work the best. Silicone brushes can also work well and have the benefit of being heat resistant. For most needs, a 1-inch and 2-inch brush will do the trick.
With these tools on hand, you'll be whipping up delicious baked goods in no time. Happy baking!
Time-Saving Electric Tools: Stand Mixers, Food Processors and Blenders
If you're serious about baking, a few key electric tools can make the process so much easier and faster. These gadgets are true time-savers that no baking enthusiast should be without.
\n\n### Stand Mixer
A stand mixer is essential for any baker. It does the hard work of mixing, kneading and beating ingredients so you don't have to. Look for a model with multiple speed settings and attachments like a dough hook, whisk and paddle. Popular, high-quality brands are KitchenAid, Cuisinart and Bosch. With a stand mixer, you can quickly whip up cookie doughs, bread doughs, frostings, whipped cream and more.
\n\n### Food Processor
A food processor chops, slices, shreds, mixes and purees ingredients in seconds. It's ideal for making pie crusts, cookie dough, coleslaw, hummus, pesto and other recipes requiring finely chopped ingredients. Choose a model with multiple blades and disks for different tasks, as well as a large bowl capacity of at least 7 to 14 cups. Top brands are Cuisinart, KitchenAid and Breville.
\n\n### High-Powered Blender
A high-powered blender can blend just about anything into a creamy puree or frothy shake. It's great for making nut butters, nut milks, fruit smoothies, chocolate mousse, mayonnaise and sauces. Look for a blender with at least 1000 to 1500 watts of power, stainless steel blades and a sturdy glass pitcher. Vitamix, Blendtec and Ninja are reputable brands for baking and beyond.
With these three electric tools in your kitchen, you'll be whipping up baked goods and other treats with speed and ease. Stand mixers, food processors and high-powered blenders are real workhorses that simplify and streamline baking tasks, allowing you to spend less time prepping and more time creating. Any baking enthusiast would be thrilled to have these time-saving gadgets.
Conclusion
So there you have it, the essential tools and utensils every baking enthusiast needs in their kitchen arsenal. With these basics on hand, you'll be whipping up homemade treats for friends and family in no time. Sure, you can get fancy with extras like silicone mats, pastry brushes, and piping bags down the road.
But start with the fundamentals – a sturdy stand mixer, high-quality measuring tools, cooling racks, and the like. Once you've mastered the basics, the world of baking will open up to you. You'll be tweaking recipes and coming up with your own signature concoctions before you know it. Happy baking! Now get in that kitchen and start creating. Your sweet tooth will thank you!